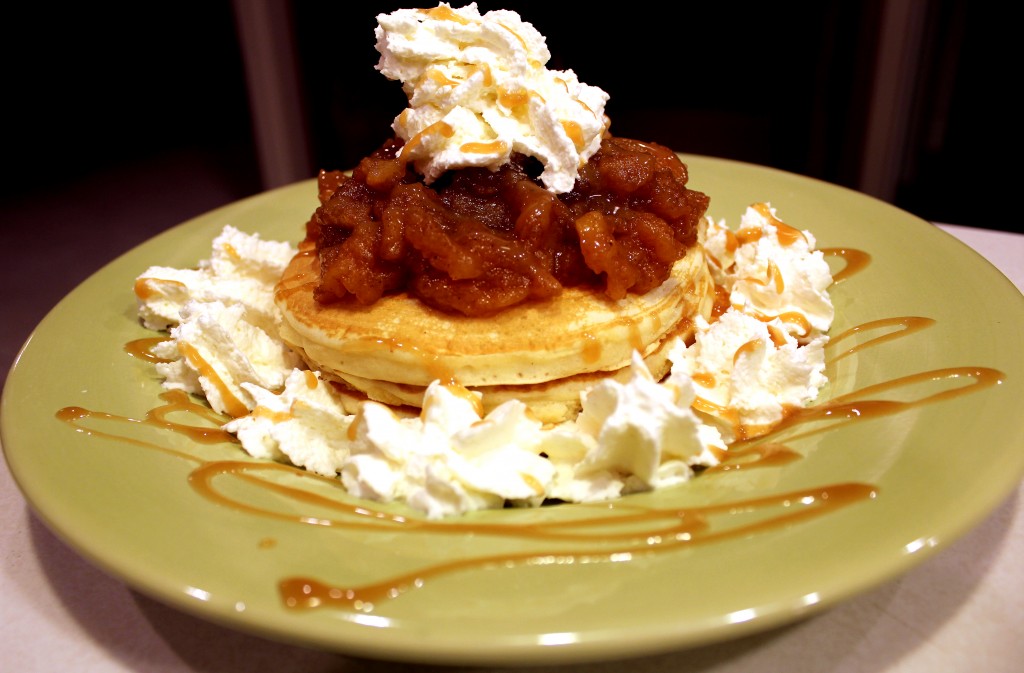 Mmmmmmmm….. Caramel Apple Pancakes! There's extra apples around the house, and a taste for pancakes. Why not?! This caramel apple pancake recipe takes barely any extra time to make compared to regular pancakes. Peel and slice your apples before making the pancake batter and prepare the caramel whipped cream in between pancake flips and they are ready to go! Yes, you heard right. Besides the caramel, apples and pancakes you will also have caramel whipped cream! Whip up this caramel apple pancake recipe for an absolutely delicious breakfast.
Preparing the caramel whipped cream …
You will need:
2 cups heavy whipping cream
8 pumps caramel flavoring syrup (2.8 oz of any flavoring syrup)
Whip-eez ½ Liter Whipping Canister
1 whipeez N20 charger
Use well chilled heavy whipping cream. Add caramel syrup and cream to dispenser. Screw head on and charge. Remove charger and replace with cap. Shake vigorously 5-6 times. Turn dispenser completely upside down and press lever gently. Keep refrigerated.
*If using 1 liter whipper, double recipe and charge with 2 chargers.
Apple mixture….
You will need:
3 thinly sliced apples
½ water
1/8 c. sugar
1 t cinnamon
Mix all ingredients in a medium saucepan. Cook on medium heat until apples are tender and liquid has slightly thickened. *you can increase or decrease amount of sugar & cinnamon depending on how sweet you want it.
Pancakes…
You will need:
1 egg
1 c. flour
¾ c. milk
1 T sugar
2 T
Step 1: Lightly grease skillet and heat on medium /low. You know pan is heated enough when a few drops of water is sprinkled on skillet and sizzles. Pour about ¼ cup pancake batter in pan and add as many as apple mixture as you like. Cook pancakes as usual.
Step 2: Top stack of pancakes with more apple mixture followed by the carmel flavored whipped cream. You can garnish with a drizzle of caramel syrup or chopped salted peanuts.
Step 3: Enjoy!