Click the photo for recipe!
---
---
---
---
---
---
---
---
---
---
---
---
Cream Whipper Recipes
Strawberry Shortcake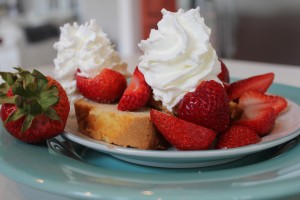 – 8 Shortcake biscuits
– 1 cup Heavy cream
– 1 tsp. Vanilla
– 2 one pound packages frozen  Strawberries in syrup
Drain the strawberries and measure out ½ cup of syrup. Place the cream, syrup and vanilla in a Whip-eez Cream Whipper. Process according to instructions. Split the biscuits, dispense some cream onto each bottom half, top with some berries, place the biscuit top back on the cream. Crown each one with another swirl of cream and a couple of berries.
---
Pumpkin cake
– 1 can (16 oz./ 450g) pumpkins
– 12 oz. / 350 g milk powder
– 4 tsp. / 20 g pumpkin pie spice
– 3 eggs
– 1 cup / 250 g powered sugar or appropriate amount of artificial sweetener.
– 1 package (18 oz. / 500g) yellow cake mix or cookie crumbs
– ¾ cup / 200 g butter
– 1 cup chopped walnuts
The above quantities will result in almost 1 quart / 1 liter of mixture, so you can fill your 1 pint Whip-eez whipper more than once! If needed, cook pumpkins, then blend and mix well with milk powder, then stir in the spices, eggs and powder sugar and pour mixture into Whip-eez cream whipper and whip up according to the operating instructions. Dispense the mixture to a well greased baking dish ( consider, that the Whip-eez cream whipper will yield 4 times the volume you filled it with). Sprinkle with cake mix, dry cookie crumbs or biscuits, walnuts and spread butter. Bake at 350F / 180C for 1 hour. Serve with ice cream or whipped cream.
---
Vanilla Yogurt Crème
How light and delicious can it get?!
– ½ cup Vanilla yogurt
– ½ cup heavy cream
– 1 tbs. powdered sugar
Place all ingredients in Whip-eez Cream Whipper. Process according to instructions. Serve immediately for best results. However, this dessert can be made ahead and time and held into the refrigerator. This recipe can be doubled.
---
Whip-eez Italian Soda
– 1 oz. of flavored syrup
– 8 oz. of carbonated water from the Whip-eez Soda Siphon
Top with whipped cream from Whip-eez Whip Cream Dispenser if you'd like.
To make Italian Cream Soda float 1oz. of Half & Half on top before adding whip cream.
---
Whip-eez Ice Cream Soda
– 3 Tbsp. any flavoring
– 2 scoops of ice cream
Carbonated water from Whip-eez Soda Siphon
Whipped Cream from Whip-eez Whip Cream Dispenser
Pour syrup into 12 oz. glass. Add ice cream. Fill with carbonated water from the Whip-eez Soda Siphon and stir to blend syrup and water. Top with fresh whipped cream from a Whip-eez Whipped Cream Dispenser